Block Reservation

We have reserved a block of rooms for HB2012 participants at the Park Plaza Beijing West from Friday, 15 September until Sunday, 23 September 2012.

Reduced rate Reservation deadline for the hotel is 17 August 2012.
website

Designed to suit business, meeting and leisure travelers, the Park Plaza Hotel Beijing West features warm, engaging service and trend-setting design on the west Chang'an Boulevard in the Haidian District of Beijing. We provide spacious guest rooms, a variety of on-site dining options, a wide range of conference facilities and a state-of-the-art Fitness Center. Our personalized and efficient service ensures that our guests enjoy a comfortable and hassle free stay at one of the finest hotels in Beijing.
Prices
Superior room (1~2 beds with 1 free breakfast) RMB 600.
Superior room (1~2 beds with 2 free breakfasts) RMB 660.

Accommodations

The workshop hotel is the workshop venue, Park Plaza Beijing West. A block of rooms has been reserved for the period September 15-23 at a rate of 600 RMB (1bed with 1 free breakfast) or 660 RMB (2 beds with 2 free breakfasts) per night for HB2012. Room reservations should be made before the August 17 cutoff date in order to guarantee rooms at these rates.

When you register for HB2012, you can fill in hotel reservation information. Secretariat of HB2012 will help you to contact with the hotel to make a reservation. Within a month, the hotel will send you a confirmation email. But if you do not receive the email after your successful registration, please contact with head of secretariat, Jingshi ZHAO at zhaojs@ihep.ac.cn.
Park Plaza Beijing West(北京紫金丽亭酒店)
No. 17 Xicui Rd, Haidian District, Beijing, 100036, China (海淀区西翠路 17 号, 北京 100036, 中国)
Reservations: 400 678 0687 (China Toll-free Reservations)
+1 (800) 777 1700 (US/Canada Toll-free)
Telephone: + 86 10 6813 0088 Fax: + 86 10 6813 3399
Email:beijingwest@parkplaza.com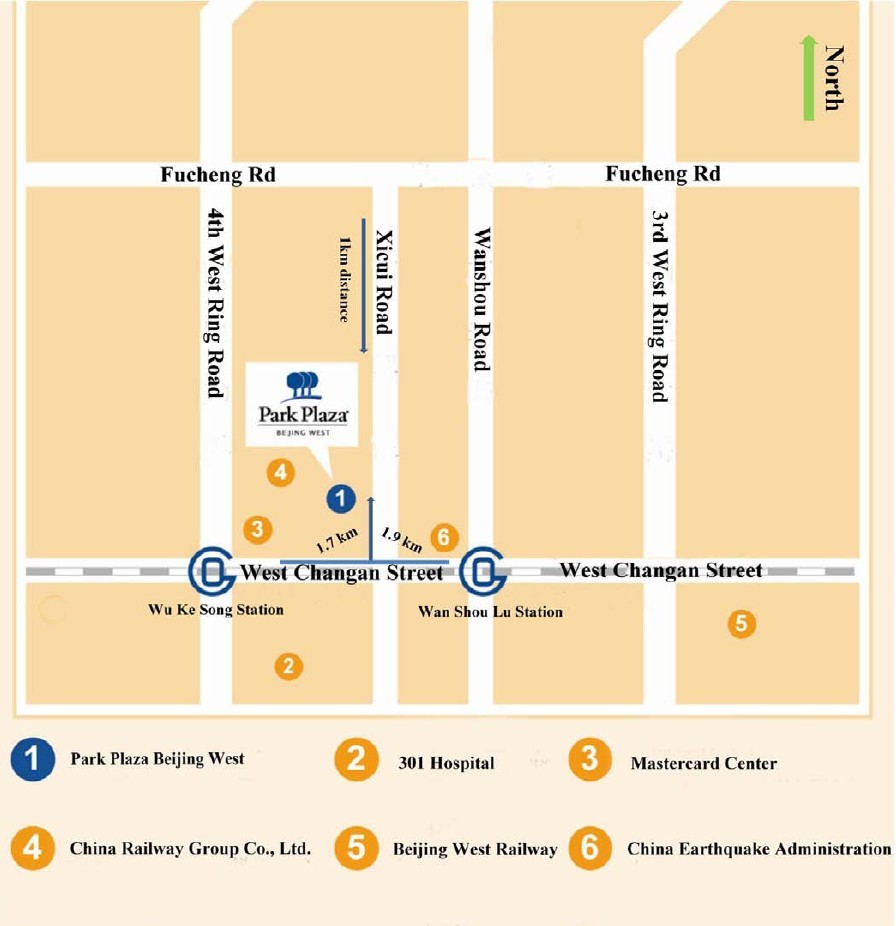 Transportation

Beijing is served by one major airport: Beijing Capital International Airport. Details on the airport can be found at the link http://en.bcia.com.cn/. Transportation from the airport to Park Plaza Beijing West is as follows:

(1) By taxi: You can get a taxi right outside the arrival terminals. It is about 40 km from the airport to the workshop hotel. The fare is about 147RMB (22 USD).

(2) By Subway: You can take Beijing Subway from the Airport Station to Dongzhimen Station, from which transfer to Line 2. Then make another change from Line 2 to Line 1 at Jianguomen Station. Take the direction to Pingguoyuan and stop off at Wanshoulu Station or Wukesong Station. Then it takes about 15 minutes' walk to the north.

(3) Airport shuttle bus: You also can take airport shuttle bus from the airport to the Gongzhufen bus station. The fare is 16RMB (2.4USD). Then you can take a taxi to the workshop hotel. The fare is about 25RMB (3.5 USD).

Click here to check an electric figure showing the hotel name and the address in Chinese, so you can print it and bring it with you when taking taxi in Beijing.